The City of Falls Church Concert Band is a community band open to musicians with a wide variety of skills and interests. Sponsored by the City of Falls Church Recreation & Parks Department, the band performs an entertaining mixture of marches, classical pieces, Broadway show medleys, regional tunes and American classics at concerts held at outdoor parks and indoor retirement centers in the local community. We also regularly perform at Ronald Reagan Washington National Airport to welcome veterans arriving via the Honor Flight program to our nation's capital.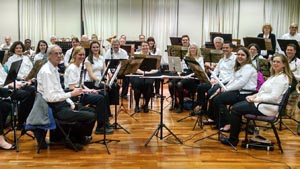 Rehearsals are held on Wednesday nights 7:45pm-9:45pm at George Mason High School. Our director brings not only a lot of musical experience and professionalism to the band, but also a friendly, lighthearted atmosphere.
The band's mission is twofold:
Provide a medium for concert band musicians to continue to pursue their musical interests and enhance their artistic growth, and
Give back to the community by providing high-quality musical performances of various types and styles of musical selections that interest and entertain both performers and audiences.
All concert band musicians are welcome to join the band. There are no auditions or try-outs and we welcome new members of any skill level.
Current band officers are listed below. Please email the membership officer with any questions you may have.
President
vacant
Treasurer
Ralph Orlik